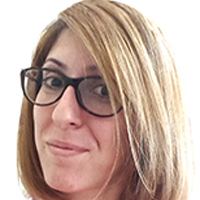 By Mai Al Khatib-Camille

A YOGA teacher is shedding light on Borderline Personality Disorder (BPD) by sharing her journey to recovery in a tell-all autobiography.
Three years ago Bahraini Weam Zabar was diagnosed with the mental health disorder that affects the way a person thinks and feels about themselves and others, causing problems functioning in everyday life.
"I was diagnosed with BPD after years of being misdiagnosed and mistreated," says the 37-year-old Namaste founder, who has been teaching yoga for the past 10 years.
"Because there are so many stigmas around BPD even among psychologists, psychiatrists and psychotherapists, I wanted to speak publicly about my journey to recovery in the hope that I could help someone get the help they need.
"This is the most healed version of my narrative that has been worked on for over a decade. A version that I hope will continue to evolve, transform, heal and make meaning of the mess it is to be borderline."
According to Weam, who has been dreaming of writing a book since she was 17 years old, Living in the Grey works as a mediator as well as a translator of the borderline experience.
She adds that it is ideal for the curious, the healers, the therapists and the humans who have enough compassion, drive for inclusion and a willingness to connect.
She chose the title Living in the Grey because one of the symptoms of the disorder is either black or white thinking ... and finding a middle path has taken her the longest to do.
"I still struggle to gauge what is okay, what is overboard and what is too little," says Weam.
"This book is an external manifestation of the love in my heart pouring out to all the people diagnosed with the disorder.
"There is nothing about the borderline emotional landscape that is foreign to anyone. We are scared of being abandoned by those we love, we sometimes feel too much, find it hard to soothe ourselves, think in black and white, suffer immensely, love deeply, push people we love away, beg people to stay and downright get too much even for ourselves.
"This book will say the one thing that your childhood self has missed, the thing that might have saved you from this disorder in the first place – I see you, I hear you, I understand you and I love you!"
Weam says the cover illustration, created by Bahraini friend Dalal Al Sindi, truly embraces and captures both parts of her – the part that struggles and suffers and the part that transforms and uplifts.
The 130-page book features experiences from her childhood, her fears and what she learnt can help her over the years.
"I think there are many surprising facts in this book," adds the counsellor, hypnotist and Reiki healer living in Saar.
"One statement that a few people have mentioned was 'I had no idea you were going through that'. That is to say, you never know what someone is going through regardless of how strong, successful, popular or happy they seem. I talk about my childhood, suicidality, relationship to God and plenty of what I learned."
Weam says that BPD is not like any other personality disorders.
"It is a direct childhood trauma response and can be treated using trauma treatments," she explains.
"A borderline is not being difficult, they respond to certain triggers the way any trauma victim responds to their triggers.
"There is currently a petition to change the term Borderline Personality Disorder as it is misleading. Also, it is not something to be ashamed of, loathed or feared. There is hope and recovery is possible.
"Learning to build meaningful and lasting relationships is one of the most fulfilling parts of recovery.
"A couple of days before publishing the book I felt a little anxious, vulnerable and naked but after it went out, the feedback has been overwhelmingly positive. I am so glad I was brave enough to do it. I already received messages from people with BPD or who have a loved one with borderline and that makes it all worth it."
The book can be purchased from Amazon or her yoga studio in Budaiya in paperback form and on Kindle.
For details, email [email protected] or on follow @wanderwonderweam on Instagram.

Source link